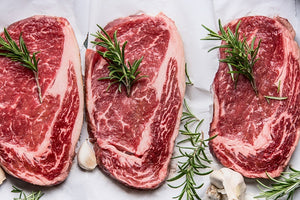 Prime Grade Ribeye Steak
Slipacoff's Premium Meats
The Prime Grade Ribeye Steak is one of our most popular cuts of beef. This ribeye steak is made from carefully selected and expertly butchered prime grade Canadian AAA beef. We age our ribeye steaks for more than 35 days to create the ultimate flavour.
Also know as a Spencer, this cut from the rib is one of the three most popular and flavorful steaks you can buy from Slipacoff's Premium Meats, alongside the tenderloin steak and the striploin steak. The prime grade ribeye steak has more fat content than you might find in a striploin steak or tenderloin steak which gives this steak an burst of flavour. If you are looking for a steal that's a cut above, better than AAA beef, and close to Australian wagyu beef, then this is the steak that you should go ALL-IN on.
We recommend cooking this steak on the grill or cast iron searing for best results. Simple, easy, and jam-packed with flavour!
100% Canadian Prime-grade beef

Naturally raised

Free from hormones and antibiotics

Aged 35 days
WHAT CUSTOMERS HAVE TO SAY
The steaks we ordered were mouthwatering and delicious. And the customer service was too-notch! You can't beat the quality of the meat or the people...we will definitely be repeat customers 😊
Theressa D.
Great place to purchase items you'll love cooking, smoking or grilling! Makes our BBQs so good!
Wes M
The ribeye steaks were amazing, as was the rest of the meat in my order.
Donna C.
Close (esc)
Sign Up!
NOW OFFERING FREE LOCAL DELIVERY ORDERS OVER $250! 
Sign up to check out our new product releases and get early access to sales.
Age verification
By clicking enter you are verifying that you are old enough to consume alcohol.