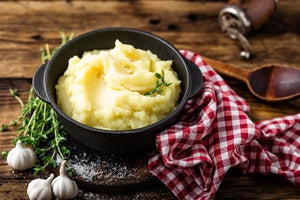 Garlic Mashed Potatoes
Slipacoff's Premium Meats
This is a 4lb portion of our Garlic mashed potatoes.  Ready to heat and serve. This is frozen, all You need to do heat and serve.
Directions: Add to medium sized Sauce pan, heat over medium heat for 10 - 15 mins while stirring occasionally until potatoes are hot and liquid it is absorbed. 
WHAT CUSTOMERS HAVE TO SAY
The steaks we ordered were mouthwatering and delicious. And the customer service was too-notch! You can't beat the quality of the meat or the people...we will definitely be repeat customers 😊
Theressa D.
Great place to purchase items you'll love cooking, smoking or grilling! Makes our BBQs so good!
Wes M
The ribeye steaks were amazing, as was the rest of the meat in my order.
Donna C.
Close (esc)
Sign Up!
NOW OFFERING FREE LOCAL DELIVERY ORDERS OVER $250! 
Sign up to check out our new product releases and get early access to sales.
Age verification
By clicking enter you are verifying that you are old enough to consume alcohol.