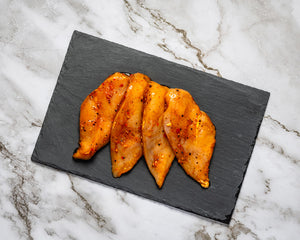 Chicken Breast Marinated "Assorted World Flavors" 1 package 16 oz average
Slipacoff's Premium Meats
Marinated Chicken Breast with Assorted Flavor. 1 x 16 oz average
Easy and ready to cook Chicken Breasts with high source of protein. 
Mediterranean style (Portuguese):
Ingredients: Sugar (sugar, maltodextrin), Salt, Spices, Dehydrated vegetables (onion, red bell pepper), flavor (yeast extract, salt).
Maple Chipotle:
Ingredients: Sugar, brown sugar, salt, dried vinegar, spices, modified corn starch, dehydrated vegetables (onion, garlic), maple sugar, flavour, smoke flavour.
Souvlaki:

Ingredients: Sugar, salt, irradiated spices, 
dehydrated vegetables (onion, garlic), sodium 
phosphate, hydrolyzed plant protein (soy), citric acid, mfg aids 
[tricalcium phosphate, vegetable oil (canola)]
WHAT CUSTOMERS HAVE TO SAY
The steaks we ordered were mouthwatering and delicious. And the customer service was too-notch! You can't beat the quality of the meat or the people...we will definitely be repeat customers 😊
Theressa D.
Great place to purchase items you'll love cooking, smoking or grilling! Makes our BBQs so good!
Wes M
The ribeye steaks were amazing, as was the rest of the meat in my order.
Donna C.
Close (esc)
Sign Up!
NOW OFFERING FREE LOCAL DELIVERY ORDERS OVER $250! 
Sign up to check out our new product releases and get early access to sales.
Age verification
By clicking enter you are verifying that you are old enough to consume alcohol.