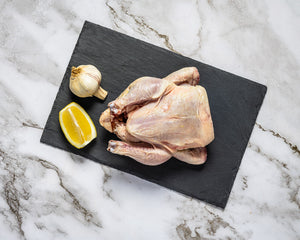 Cornish Hens
Slipacoff's Premium Meats
The Cornish hen is a true classic. Guests love it because Cornish hen is tender, juicy, and full of flavor. Cooks love Cornish hen because, for all its elegance and flavor, it's relatively simple to make. 12 to 16 OZ avg.
Goes Great With...
The barbecue. Simple. Tender. Just brush with your favorite sauce.
Our Preferred Preparation 
There's nothing quite like a stuffed Cornish hen. Get your hands on a tasty stuffing recipe (bread, onion, celery, and butter work just fine), or go with boxed stuffing you can buy in the store. Once cooked, stuff each hen and tie the legs together with oven-safe twine, then bake at 400℉. Classic!
Ingredients
Air-chilled, hand-cut poultry

Free range

All natural

Hormone free
WHAT CUSTOMERS HAVE TO SAY
The steaks we ordered were mouthwatering and delicious. And the customer service was too-notch! You can't beat the quality of the meat or the people...we will definitely be repeat customers 😊
Theressa D.
Great place to purchase items you'll love cooking, smoking or grilling! Makes our BBQs so good!
Wes M
The ribeye steaks were amazing, as was the rest of the meat in my order.
Donna C.
Close (esc)
Sign Up!
NOW OFFERING FREE LOCAL DELIVERY ORDERS OVER $250! 
Sign up to check out our new product releases and get early access to sales.
Age verification
By clicking enter you are verifying that you are old enough to consume alcohol.