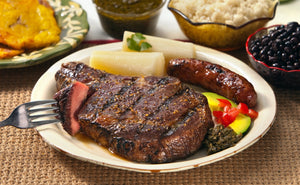 Rib Steak bone in AAA
Slipacoff's Premium Meats
Aged for 35 days, these marbled and so flavorful Canadian-Raised AAA rib steak come from our hand selected inventory of bone-in Prime Ribs.

Grading of a whole individual cattle of beef in the industry comes from the rib which determines its grading. The quintessence of any steak. You get the Eye, the cap and yes a bit of fat.
Awesome when grilled, cast iron seared or broiled if desired. 
WHAT CUSTOMERS HAVE TO SAY
The steaks we ordered were mouthwatering and delicious. And the customer service was too-notch! You can't beat the quality of the meat or the people...we will definitely be repeat customers 😊
Theressa D.
Great place to purchase items you'll love cooking, smoking or grilling! Makes our BBQs so good!
Wes M
The ribeye steaks were amazing, as was the rest of the meat in my order.
Donna C.
Close (esc)
Sign Up!
NOW OFFERING FREE LOCAL DELIVERY ORDERS OVER $250! 
Sign up to check out our new product releases and get early access to sales.
Age verification
By clicking enter you are verifying that you are old enough to consume alcohol.