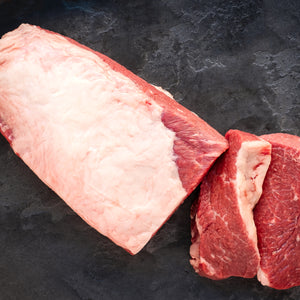 Brisket Beef Canadian AAA
Slipacoff's Premium Meats
With both the flat-cut and the point, this AAA Canadian beef brisket from Slipacoff's Premium Meats has been aged precisely at 21 days to naturally maximize the tenderness you're going to need for your barbecue or smoker. This beef brisket is 12 lbs. of richly marbled perfection that's as impressive at home as it is at professional smoking competitions.
 Whole 12 lb. Packer grade beef brisket
Perfect for professional smokers and hobbyists alike
Includes both the flat-cut and point
Aged at least 21 days for extra-tender texture
Butcher-cut from hand-selected premium AAA Canadian beef
Includes 100% satisfaction guarantee

Excellent source of protein
WHAT CUSTOMERS HAVE TO SAY
The steaks we ordered were mouthwatering and delicious. And the customer service was too-notch! You can't beat the quality of the meat or the people...we will definitely be repeat customers 😊
Theressa D.
Great place to purchase items you'll love cooking, smoking or grilling! Makes our BBQs so good!
Wes M
The ribeye steaks were amazing, as was the rest of the meat in my order.
Donna C.
Close (esc)
Sign Up!
NOW OFFERING FREE LOCAL DELIVERY ORDERS OVER $250! 
Sign up to check out our new product releases and get early access to sales.
Age verification
By clicking enter you are verifying that you are old enough to consume alcohol.