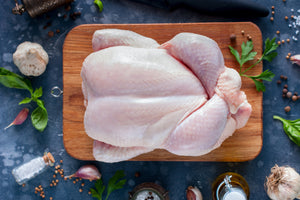 Whole Chickens 100% Grain Fed $14.00
Slipacoff's Premium Meats
Slipacoff's Premium Meats sources our whole chickens from local Ontario farms. Always all natural. Always free-range and hormone free. These whole chickens are air-chilled, helping them to retain their beautiful color and natural flavor—without paying for any extra water weight like you do with most water-chilled chickens. High in lean protein and very calorie efficient, these whole chickens are simply delicious. 3-4 lbs avg.
Canadian Farm Raised, grain fed, air chilled whole chickens.  Each bird is approximately 3 to  4lbs. They are great for cutting into pieces or roasting whole.
WHAT CUSTOMERS HAVE TO SAY
The steaks we ordered were mouthwatering and delicious. And the customer service was too-notch! You can't beat the quality of the meat or the people...we will definitely be repeat customers 😊
Theressa D.
Great place to purchase items you'll love cooking, smoking or grilling! Makes our BBQs so good!
Wes M
The ribeye steaks were amazing, as was the rest of the meat in my order.
Donna C.
Close (esc)
Sign Up!
NOW OFFERING FREE LOCAL DELIVERY ORDERS OVER $250! 
Sign up to check out our new product releases and get early access to sales.
Age verification
By clicking enter you are verifying that you are old enough to consume alcohol.