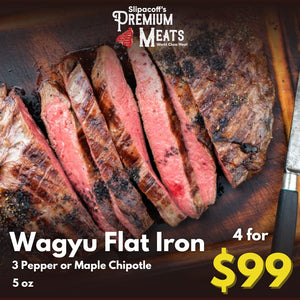 Wagyu Flat Iron Beef Australian 4 for $99
Slipacoff's Premium Meats
Right from the Outback, This is next level cross breed Wagyu from Andrews Tajima. Full blood sire and Angus Dam. Graded 8-9 these Australian flat Iron steaks are so well marbled, never mind the olive oil or butter to sear them. It will do so on its own.
They will blow you away. Very hard to find something else to beat other than A5 Japanese Kobe for more than double the price. Smoking this piece is for the ELITE. 
Serious players ONLY!
Beware highly addictive. 
Choose from Marinated in peppercorn or Maple Chipotle

Australian wagyu beef (MB Grade 8-9)

Halal approved

Hormone Free

5 oz individual pack
WHAT CUSTOMERS HAVE TO SAY
The steaks we ordered were mouthwatering and delicious. And the customer service was too-notch! You can't beat the quality of the meat or the people...we will definitely be repeat customers 😊
Theressa D.
Great place to purchase items you'll love cooking, smoking or grilling! Makes our BBQs so good!
Wes M
The ribeye steaks were amazing, as was the rest of the meat in my order.
Donna C.
Close (esc)
Sign Up!
NOW OFFERING FREE LOCAL DELIVERY ORDERS OVER $250! 
Sign up to check out our new product releases and get early access to sales.
Age verification
By clicking enter you are verifying that you are old enough to consume alcohol.