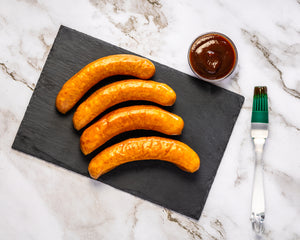 Gourmet Smoked Meat - Turkey Sausage
Slipacoff's Premium Meats
This one hearkens back to the early origins of Slipacoff's Premium Meats when our founders and original butchers were still selling sausages on the Famous Byward Market in Ottawa. Our recipe, preparation style, and attention to detail is steeped in this long history, so we take special pride in the quality of these turkey sausages. Plus, our expert sausage makers are so fast, they could beat a machine any day. Comes 4 piece per pkg.
Freshly handmade Smoked Turkey Sausages. Excellent flavor and texture! 
Ingredients: turkey, water, bread crumbs, coarse black pepper, sugar, granulated garlic,
ground marjoram, ground nutmeg, phosphate, natural smoke.

Contains Allergen: Wheat, Soya oil, Dairy.
WHAT CUSTOMERS HAVE TO SAY
The steaks we ordered were mouthwatering and delicious. And the customer service was too-notch! You can't beat the quality of the meat or the people...we will definitely be repeat customers 😊
Theressa D.
Great place to purchase items you'll love cooking, smoking or grilling! Makes our BBQs so good!
Wes M
The ribeye steaks were amazing, as was the rest of the meat in my order.
Donna C.
Close (esc)
Sign Up!
NOW OFFERING FREE LOCAL DELIVERY ORDERS OVER $250! 
Sign up to check out our new product releases and get early access to sales.
Age verification
By clicking enter you are verifying that you are old enough to consume alcohol.