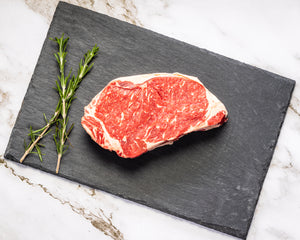 Prime Grade Striploin Steak
Slipacoff's Premium Meats
At Slipacoff's Premium Meats, aging beef is our thing. knowing how to draw moisture out of cuts of beef in a temperature and humidity controlled environment requires knowledge and we have it.
We at Slipacoff's Premium Meats promise and guarantee you that every single piece Canadian-raised PRIME grade striploin steak will be aged a minimum of 45 days.
Slowly giving each piece more and more flavor and more and more tenderness.
On the grill, cast iron seared or sous-vide are the best options.
100% Canadian Prime-grade beef

Naturally raised

Free from hormones and antibiotics

Aged 45 days.
WHAT CUSTOMERS HAVE TO SAY
The steaks we ordered were mouthwatering and delicious. And the customer service was too-notch! You can't beat the quality of the meat or the people...we will definitely be repeat customers 😊
Theressa D.
Great place to purchase items you'll love cooking, smoking or grilling! Makes our BBQs so good!
Wes M
The ribeye steaks were amazing, as was the rest of the meat in my order.
Donna C.
Close (esc)
Sign Up!
NOW OFFERING FREE LOCAL DELIVERY ORDERS OVER $250! 
Sign up to check out our new product releases and get early access to sales.
Age verification
By clicking enter you are verifying that you are old enough to consume alcohol.